Deanna Booth, LCPC
Licensed Clinical Professional Counselor
Independent Affiliated Therapist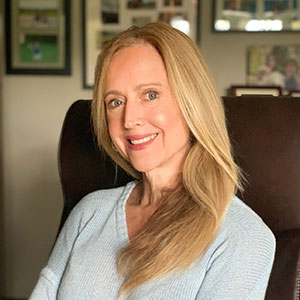 Deanna Booth, MS, LCPC hails from the beautiful state of Vermont where she received her BA in psychology and her MS in counseling from the University of Vermont.
Her early work included agency work with a population of people being deinstitutionalized from mental health facilities. She focused on the client's needs to learn basic life skills and re-learn the skills of self direction, self-regulation to live independently.
Deanna was deeply impacted by this work. It motivated her to pursue her masters. She entered her graduate studies focused on early intervention. Her driving force was the belief that if people were taught basic life skills earlier in life, it would maximize their enjoyment in the world. Specifically, their enjoyment in their families themselves and their communities.
After receiving her masters in counseling Deanna earned her license to practice psychotherapy. She began her practice as a contracted therapist in a pre-K to eighth grade school setting. There she worked with staff, parents, children, and affiliated agencies within the communities served. It was in this role Deanna learned one of her most important lessons as a therapist, "there is no problem that is too big, or overwhelming to solve. With skills, focus, intent, individualized approaches and collaboration, virtually any limiting issue in a person's life can be positively impacted."
Deanna continues to uphold this belief as a defining force in her practice. She believes the most powerful piece of the therapist/client collaboration is the belief that change is not only possible, but probable and attainable.
Deanna describes her approach as a "roll up our sleeves and tackle this together" exercise. She and her clients assess behavioral and thought patterns, unpack them and break them down into manageable components. Prioritizing areas of necessary change and growth.
It is essential to make a collaborative strategic plan with each client and to define measurable goals. This way Deanna says she and her clients can identify what's going well and reconfigure what is not.
Deanna's special interests include working with school aged and teenaged children, parenting concerns and solutions, blended family issues, managing divorce and family dynamics generally. Individual and couples work is an interest and strength. Deanna has extensive training and experience in areas including but not limited to: Anxiety, depression, body image, couples issues, life stress management, parent coaching, behavioral planning for kids and families, trauma informed work and grief and loss.
For Deanna, this profession is not a job, but rather a vocation.