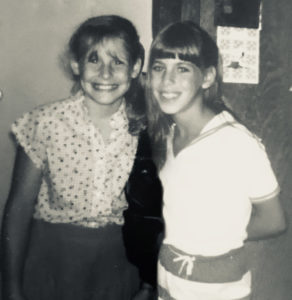 NorthStar Counseling Group has grown out of the lifelong friendship of its owners; Robin Miller and Jori Riske. They are driven by their dream and commitment to providing an environment that offers clients and staff the perfect space necessary to do the important work of psychotherapy.
Jori and Robin met as young girls attending an overnight camp in Northern Wisconsin. Their friendship was cultivated on the lake, in the cabin and under the stars. Camp was a safe and happy place where loyalty, trust, friendship and personal growth were encouraged and honored year after year. The long school years between summers taught them about lasting friendship and gave them the experience of returning to a place that was safe and comfortable where friendships from summers past could be renewed and relied on. When camp ended and they went their separate ways it was with fond memories and good feelings. The years between camp and adulthood flew by and they lost track of each other. As things happen, they were once again serendipitously reunited at a professional event, only to realize they had unknowingly chosen the same career path. Their friendship was reignited as if only one long school year had gone by.
For the past 20 years they have worked side-by-side and are committed to providing a space to which they will love coming. They believe all who come will find it to be an enriching and rewarding experience.
NorthStar Counseling Group's mission is to provide an environment that is safe and comfortable for all who enter. Commitment to intelligent practice backed by honesty, integrity and sensitivity drives our treatment. We hope that all those who join us at NorthStar Counseling Group will find the services provided offer them support, guidance and safety to become their best self.